Alumina Bubble Bricks are manufactured with alumina bubble ball and alumina powder as the main raw materials and combine with other binding agents through firing in the high temperature of 1750℃, which belong a kind of refractory materials with features of super high temperature, saving energy and thermal insulation.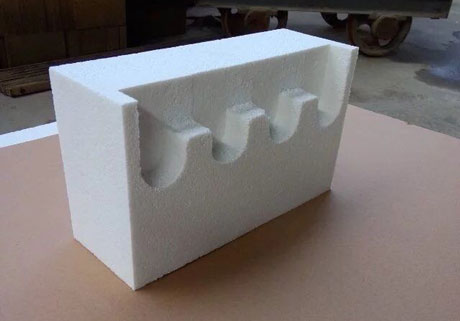 Description For Alumina Bubble Bricks
Alumina Bubble Bricks adopt alumina bubble ball as the main raw materials, high-performance ultrafine powder as the annexing agent and organic substance as the binding agent through molding and drying, and then are fired in the high temperature shuttle kiln.
Alumina Bubble Bricks Properties
Light weight
High temperature resistance
Low reheating linear change
Good thermal shock resistance
Lower construction cost
Saving energy
Alumina Bubble Bricks Application
Alumina Bubble Bricks are widely used in the high temperature kilns of metallurgy industry, chemical engineering industry, glass industry, ceramics industry and refractory materials industry.
Alumina Bubble Bricks Manufacturing Process
Burdening
Molding
Body drying
Firing
Finished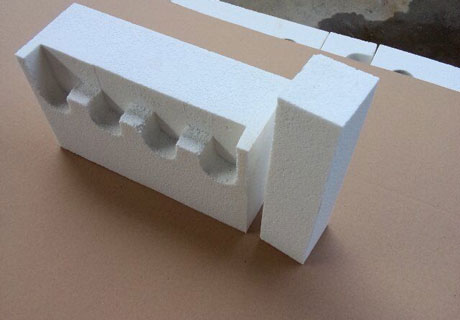 Alumina Bubble Bricks Specification
Item/Index
Alumina Bubble Ball
Zirconia Bubble Ball
Sialon Binding Al2O3 Bubble Bricks
LKZ-88
LKZ-98
ZKZ-98
—
Maximum Service Temperature ℃
1650
1800
2000~ 2200
1600
Al2O3   % ≥
88
99
–
70
ZrO2   % ≥
–
–
9.8
–
SiO2  % ≤
–
0.2
0.2
–
Fe2O3  % ≤
0.3
0.15
0.2
N≥5
Bulk Density   g/cm
1.30~1.45
1.40~1.65
≤ 3.0
≤ 1.5
Cold Crushing Strength   MPa  ≥
10
9
8
15
Refractoriness Under Load  ℃

(0.2MPa,0.6%) ≥

1650
1700
1700
1700
Reheating Linear Change Rate  %
1600℃×3hrs
±0.3
±0.3
±0.2
–
Thermal Expansivity ×10

(indoor temperature, ~1300℃)

~8.0
~8.6
–
thermal shock resistance, times  (1100℃water cold)≥15
Thermal Conductivity  W/(m.K) ≤

(average temperature 800℃)

0.9
1.0
0.5
1.1
Application
Application in the chemical engineering industry as the insulation lining for carbon black furnace and linings for high temperature kilns in the ceramics and refractory materials industry.

Application in the chemical engineering industry as the insulation lining for carbon black furnace, gasifier and gas-making furnace, and the lining of high temperature kilns.

Used as thermal lining of in the high temperature kilns with 2000~2200℃.

Used as the hot-face lining of ceramic kilns and other high temperature kilns with 1400~1600℃.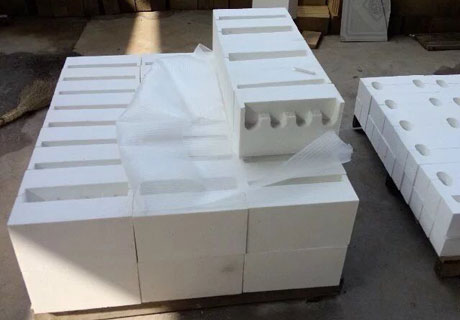 Advantages of Alumina Bubble Bricks
Alumina Bubble Brick can lighten the weight of furnace body, save refractory materials and energy.
High Service Temperature
Alumina Bubble brick can service high temperature over 1750℃ with good thermal shock resistance. It has lower reheating linear change rate and longer service life.
Structural Improvement
Now most used refractory materials belong to heavy brick, their bulk density reaches 2.6~3.0g/cm. But the alumina bubble bricks' bulk density only has 1.1~1.5g/cm. For the same one stere bulk density, using alumina bubble brick can lighten 1.1~1.9 tons weight.
Saving Materials
Because its lightweight feature, using alumina bubble bricks can save 80% refractory insulation materials.
Saving Energy
Alumina Bubble Bricks have properties of thermal insulation and low thermal conductivity, which can play good insulation effect, reduce the heat dissipation, improve thermal efficiency and save energy reaching up to 30%.
Alumina Bubble Bricks Manufacturer
Rongsheng Refractory is a professional refractory bricks manufacturer can manufacture high quality alumina bubble bricks with advanced production technology and manufacturing equipments. Based on our study on manufacturing, we can sale alumina bubble bricks with low price for customers saving cost. Wanna learn more about refractory fire bricks information, browse other pages on my website or directly contact us for free quote!