Checker Brick is a kind of heat carrier with features of good volume stability, excellent high temperature load creep property, high density and low apparent porosity for application in hot blast stove of blast furnace and flame furnace.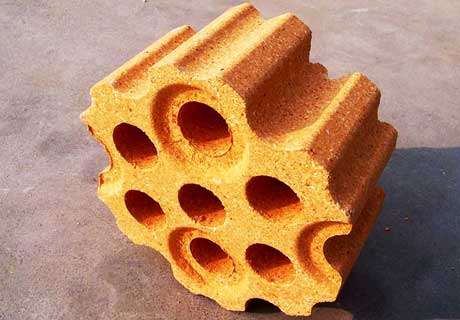 Description for Checker Brick
Checker Brick is a kind of heat-transfer medium, which is mainly used for middle-upper part of regenerative chamber in hot blast stove for thermal storage in the burning period. Checker Bricks play the extremely important function in the process of heating cool wind up to hot wind through convective heat exchange and radiation heat transfer in the blast period. Checker Brick is widely used in iron smelting industry as a kind of heat-carrier with excellent thermal engineering performance of strong heat exchange ability, large thermal storage area, smooth ventilation and low resistance. Checker Bricks are mainly used in the hot blast stove. When the hot wind is lower than 900℃, generally adopt fireclay bricks. When the wind temperature is higher than 900℃, adopt high alumina refractory bricks, mullite brick, sillimanite brick and silica refractory bricks and etc.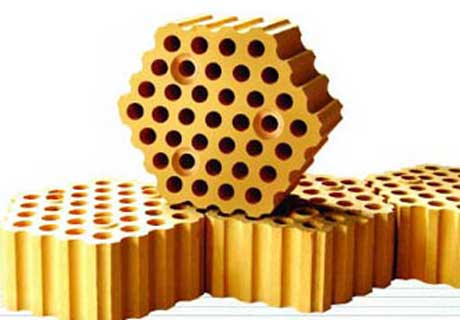 Checker Brick Process Flow
Hot blast stove heats the cool wind that send from blast blower to blast furnace up to hot wind, then hot wind through warm-air pipe start to fire in the blast furnace. Blast furnace use hot wind to smelt, which can significantly reduce the fuel quantity wasted from iron making process. Hot blast stove is a kind of device on duty cycle operation, which includes two performance periods: burning period and on blast. The two performance periods take turns regular intervals. In the burning period, gas fuel in the combustor of hot blast stove burns to form high temperature flue gas. High temperature gas fuel goes through checker brick's holes and passes the heat on to checker brick. Fuel gas itself body temperature goes down when heating checker bricks. After checker bricks cooling down the fuel gas that then is discharged into air the atmosphere from chimney through flue pipe. On blast, cool wind from blast blower goes into the hot blast stove and is heated up to hot wind, and then is send into blast furnace through hot blast pipe.
Features of Checker Brick
Good volume stability
Good high-temperature loading creep property
High bulk density
Low apparent porosity
Application of Checker Brick
Regenerative chamber in the hot blast stove
Blast furnace
Fame furnace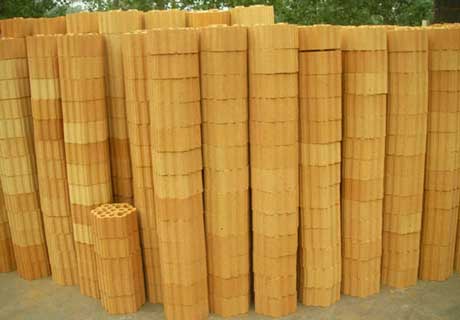 Checker Brick Specification
Refractory Fireclay Checker Brick

Item
Unite
Index
HLG
LLG
Al2O3
%
≥50
≥45
Fe2O3
%
≤1.6
≤1.6
Refractoriness
℃
≥1600
≥1600
Apparent Porosity
%
≤22
≤24
Bulk Density
g/cm3
≥2.45
≥2.35
Cold Crushing Strength
MPa
≥80
≥60
Refractoriness Under Load (0.2MPa)
℃
≥1500
≥1400
Permanent Linear Change (1500℃*2h)
%
±0.2
±0.2
Checker Brick Manufacturer
Rongsheng, a professional refractory bricks manufacturer in China, has been insisting on producing high quality Checker Bricks for many years! We not only provide customers with the best quality products, but also the conscientious service! Rongsheng, a trustable enterprise brand, every year exports all kinds of refractory bricks to Indonesia, Thailand, Saudi Arabia, South Africa, Pakistan, Turkey, Iran, Iraq, India, Korea, Japan and etc.