Commonly used refractory bricks in cement kilns include low-temperature and alkali-resistant bricks, and high-temperature and high-temperature Silicon Carbide Mullite Bricks. Cement Kiln Lining Refractory Bricks for Sale from RS Factory. Contact us for a free quote and sample of refractory bricks for cement kiln lining and also for the Requirements of Refractory Materials for Cement Kilns.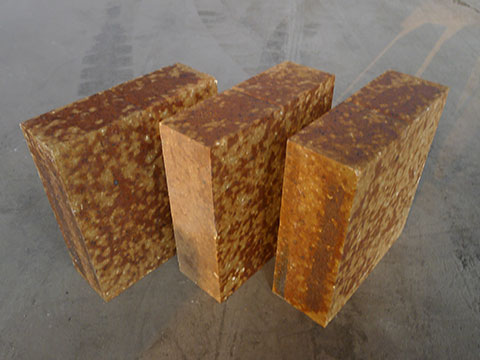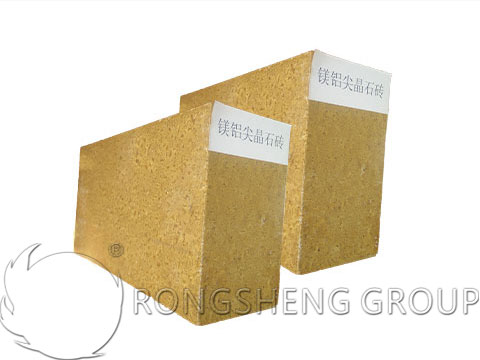 Application and Advantages of Refractory Bricks for Cement Kiln Lining
Application of silicon carbide (SiC) in refractories for cement kiln lining. Silicon carbide, which is an inert material, does not react with alkali and has good anti-skinning properties and first-class alkali resistance. Wear-resistant and corrosion-resistant, the mixed material product forms a liquid phase layer and protective film on the surface at high temperatures, which can improve the alkali resistance and service life of the product. Such as silicon carbide-mullite brick, and aluminum silicon carbide series refractory castable materials.
1. Silicon Carbide Mullite Red Bricks
Silicon Carbide Mullite Red Bricks = Silicon Carbide Mullite + andalusite. Fired bricks with mullite and silicon carbide as the main minerals. High strength wears resistance and good shock resistance. Andalusite produces expansion at high temperatures, improves creep resistance and high-temperature strength of material products, and improves thermal shock stability.
Silicon Carbide Mullite Red Bricks. Silicon Carbide Mullite bricks are added to andalusite products. Good wear resistance, and good thermal shock stability. Uniform expansion, good thermal shock stability, high load softening point, high strength, good chemical corrosion resistance, low thermal conductivity ≤1.7W/m·k. Low thermal conductivity, low heat loss, and low coal consumption. Low bulk density and lightweight.
2. Magnesium Iron Spinel Bricks
Magnesium iron spinel brick. Using cement clinker to generate CaO-AL2O3-Fe2O3 series compounds, Fe2O3 components diffuse and expand the reaction site, which can stabilize the kiln skin. Advantages: Fe2O3 bricks have a well-developed bonding structure, which can improve the peeling resistance and adhesion of the kiln skin. Disadvantages: high-temperature resistance, corrosion resistance, poor redox resistance. Because there is no kiln skin protection, the temperature of the kiln brick cylinder in the transition zone on the cement kiln is high, and the damage is fast, which affects the operation rate of the kiln system.
3. Magnesium-Aluminum Spinel Bricks
Magnesium-aluminum spinel: high thermal conductivity, high coal consumption. Although the kiln skin has good performance, it is expensive. The disadvantage is that it is not resistant to corrosion and is sensitive to changes in the atmosphere. When in contact with cement clinker, the CaO magnesia iron brick in the clinker will have the effect of Fe2O to generate C2F. If the melting point of the impurity is low, the magnesia stone has a good moisturizing effect. Due to the protection of the kiln skin, the magnesia iron brick avoids the shortcomings of poor ablation ability and sensitivity to changes in the atmosphere and has a long service life. The surface phase of cement clinker causes kiln skin pulverization, kiln skin, and refractory fall-off.
Among all refractory materials, magnesia-iron spinel bricks, cement clinker, and spinel bricks are the bricks with the best hanging kiln skin performance. This component is closely related to the stability of the kiln skin. The deeper part of the kiln skin is refractory brick, and the shallower part is cement clinker. The cement clinker is closely combined with the refractory material, and the liquid phase in the cement clinker has invaded the interior of the refractory material through the periclase grain boundary.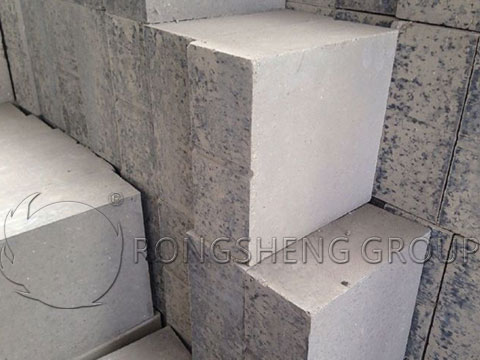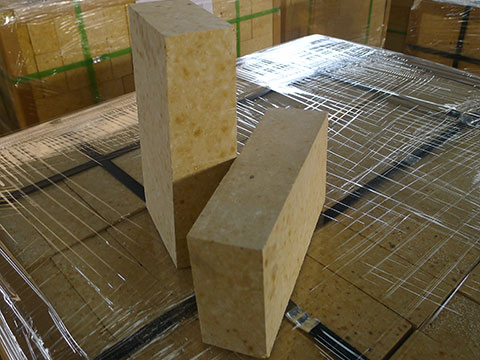 Classification of Refractory Bricks for Cement Kilns
There are many varieties of refractory materials used in the cement industry. The correct selection and use of refractory materials play a pivotal role in the cement industry's efforts to achieve high production, high quality, low consumption, and safe operation.
In terms of refractory technology, refractory materials for cement kilns have developed from a few varieties such as clay bricks, high-alumina bricks, and bauxite cement blocks to a family of nearly 100 kinds of materials. Today, refractories for cement kilns can be roughly divided into sintered alkaline refractories, sintered aluminum-silicon refractories, unshaped refractories and prefabricated parts, thermal insulation refractory products, and other types.
In terms of sintered alkaline materials, there are ordinary magnesia-chrome bricks, direct-bonded magnesia-chrome bricks, and low-chromium magnesia-chrome bricks. Pericarite-magnesium-alumina spinel brick (hereinafter referred to as magnesia-alumina spinel brick). Magnesium-aluminum spinel zirconium bricks, magnesium-iron spinel bricks, iron-aluminum spinel bricks, chrome-containing magnesium-aluminum spinel bricks, and magnesium-manganese spinel bricks. Dolomite brick, magnesium dolomite brick, dolomite zirconium brick, magnesium dolomite zirconium brick. Pericarpite calcium zirconate bricks, composite alkaline bricks, and other varieties.
In terms of shaped aluminum siliceous refractories, there are alkali-resistant clay bricks, high-strength alkali-resistant bricks, and vault alkali-resistant bricks. Alkali-resistant thermal insulation bricks, phosphate-bonded high-alumina bricks, and phosphate-bonded wear-resistant bricks. Steel fiber reinforced phosphate bonded wear-resistant brick, high-load soft brick. Kyanite bricks, anti-stripping high alumina bricks, Silicon Carbide Mullite bricks, Silicon Carbide Mullite red bricks, and other special high-alumina bricks.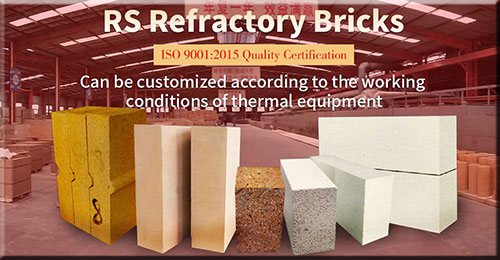 Refractory Bricks for Cement Kiln Lining for Sale from RS Factory
The refractory bricks and refractory castables for cement kilns can be delivered for use only after the masonry has passed the acceptance inspection. However, it must be baked with a certain heating system before use. When the kiln is shut down but the kiln lining is not changed, an appropriate cooling system must be adopted to cool down before the shutdown. Only in this way can the kiln lining be in a safe state for normal use. The heating system in baking and the cooling system in cooling depends on factors such as the structure, material, and brick type of the kiln lining, as well as the masonry method. Buy high-quality refractory bricks for cement kilns. Choose RS refractory brick manufacturers. We can not only provide high-quality refractory brick products but also provide you with customized high-quality refractory lining materials according to the specific working conditions of the rotary kiln.