AZS Brick, also called Fused Cast Alumina-Zirconia-Silica Refractory Brick for sale in Manufacturer RS, belongs to a kind of high-grade fused cast refractory bricks with high quality and best uses in glass furnace. Fused Cast AZS Brick can directly touch with high temperature molten metal and slag. If you have plan to buy high quality AZS refractory bricks for sale cheap for application in your glass furnace project or in iron & steel industry, you can contact us – RS Professional AZS Zircon Corundum Brick Manufacturer in China for detailed information and free quote!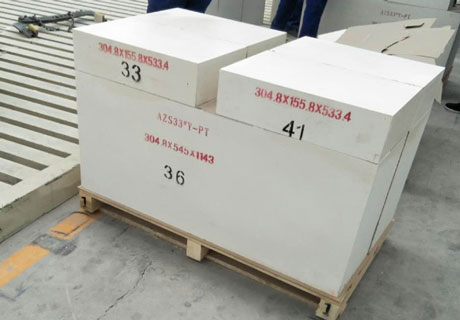 Detailed Introduction to AZS Brick
AZS Brick, solid with white color, is made of pure alumina powder and zircon sand containing about 65% ZrO2 and 34% SiO2 content that are injected to be mold after being melt in the electric melting furnace. Its petrographic structure is composed of eutectoid and glass phase from corundum and zirconium inclined stone.
AZS Brick actually is Fused Cast Alumina-Zirconia-Silica Refractory Brick that including three main chemical components of Al2O3, ZrO2 and SiO2. Fused cast AZS Brick is manufactured under the high temperature of 1900~2000 degree through melting and molding.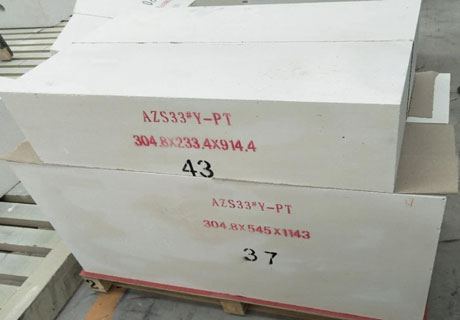 Technology Introduction Of AZS Fire Brick
AZS Brick, zirconia corundum refractory brick with 33~45% ZrO2 content, uses industrial alumina powder and well-selected zircon sand as the raw materials. Fused cast AZS Brick is mainly used as the high temperature refractory materials for resisting high temperature washing in glass industrial tank furnace, glass electrical furnace, slide of iron & steel industry, silicate of soda industry furnace.
Properties of AZS Refractory Brick
High Temperature and Erosion Resistance
High Compactness Property
Good Mechanical Property and Wear Resistance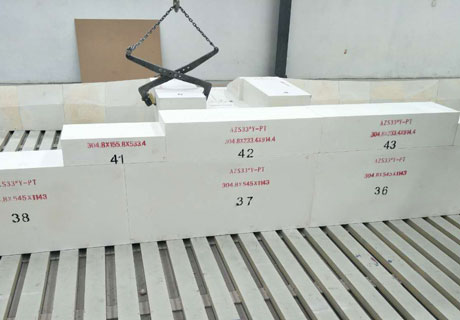 Application of Fused Cast AZS Alumina Fire Brick
AZS brick can be used as the materials for resisting molten metal and melt slag.
AZS brick is the key materials to be used for the important position in glass furnace.
Fused Cast AZS Refractory Bricks also can be used in the metal smelting furnace and container for resisting slag erosion.
AZS Brick should not be used in the position with vagaries of temperature among 900~1160 degree.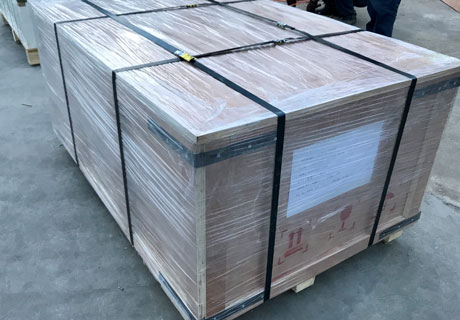 Production Process of AZS Brick for Glass Furnace
Burdening: Mix high purity fused alumina zirconia bricks raw materials with excellent properties after weighting and take good advantage of the properties of all kinds of raw materials.
Fusing: Add burdening mixing materials into the self-controlled electric-arc furnace for fusing under the best condition.
Pouring: Pouring the fused alumina zirconia molten materials into the special designed products mould.
Annealing: Cooling the fused alumina corundum bricks slowly and make the bricks' crystal grow to be the best structure.
Surface working: Use precision processing equipment to manufacture AZS Bricks according with the required precise sizes.
Inspection: Inspect the appearance of each brick according to the contract forms strictly.
Physical and chemical analysis: Make a physical and chemical analysis on fused alumina zirconia bricks according to the requirements of contract.
Preassembling: Preassembling the bricks for key position according to the drawing.
Packaging: Package well all the finished bricks.
Test of Fused Cast AZS Brick
AZS Brick common specifications of refractoriness, reheating linear shrinkage and expansion, refractoriness under load, true density, cold crushing strength, apparent porosity, thermal shock resistance and specific resistance that generally are provided by professional fused cast AZS bricks manufacturer for user department. It is not enough to just learn about the properties of AZS brick, you need to learn more detailed about the reaction situation of glass liquid and furnace gas erosion.
Put AZS Bricks into glass furnace and inspect the performance. But there is risk for this test that if the AZS bricks happen to damage and then there will be more loss from operating period and dates. It is necessary to do some test on the application property, such as:
Compare the erosion situation and estimate the service life of AZS Bricks.
Inspect the effect of fused bricks.
Evaluate the quality of fused cast AZS Bricks, and conduct to improve the manufacturing of AZS Bricks.
Inspect if the AZS bricks are suitable for the melting and molding in the glass furnace.
Physico-Chemical Performance Index of AZS Brick
| | | | |
| --- | --- | --- | --- |
| Items | AZS – RS33# | AZS – RS36# | AZS – RS41# |
| Al2O3 | ≥ 50 | ≥ 49 | ≥ 45 |
| ZrO2 | ≥ 32.50 | ≥ 35.5 | ≥ 40.5 |
| SiO2 | ≤ 15 | ≤ 13.5 | ≤ 12.5 |
| Na2O + K2O | ≤ 1.30 | ≤ 1.35 | ≤ 1.3 |
| Cold Crushing Strength Mpa | ≥ 200 | ≥ 200 | ≥ 200 |
| Bulk Density g/cm3 | ≥ 3.75 | ≥ 3.85 | ≥ 4 |
| Apparent Porosity % | ≤ 1.2 | ≤ 1.0 | ≤ 1.2 |
| Bubble Separation Ratio(1300℃×10h) | ≤ 1.2 | ≤ 1.0 | ≤ 1.0 |
| Exudation Temperature of Glass Phase | ≥ 1400 | ≥ 1400 | ≥ 1410 |
| Anti-corrosion Rate of Glass Liquid 1500℃×36h (mm/24h) % | ≤ 1.4 | ≤ 1.3 | ≤ 1.2 |
AZS Zircon Corundum Brick Manufacturer
RS Refractory Fire Bricks Manufacturer in China has professional manufacturing and exporting experience, which will be your best choice to buy high quality AZS bricks at low price. You can contact us to visit our refractory manufacturing factory or can send us an inquiry email for price list. Welcome to know more about RS AZS Bricks in China.