People in the refractory industry all know that the erosion in the glass furnace is very serious. Moreover, the erosion of different parts on the wall liner of the glass tank furnace is also different. Glass furnace refractory bricks under the corrosion from hot temperature, chemical reaction, mechanical erosion, etc. Here is listed the mainly chemical corrosion.
Glass Tank Furnace Refractories Chemical Corrosion
The chemical corrosion on tank glass furnace refractories includes: molten glass and refractory material reaction caused corrosion, glass batching material dusts and refractory material reaction caused corrosion, glass batching material volatiles and refractory materials reaction caused corrosion, fuel ash composition and combustion products will react with refractory material and cause corrosion.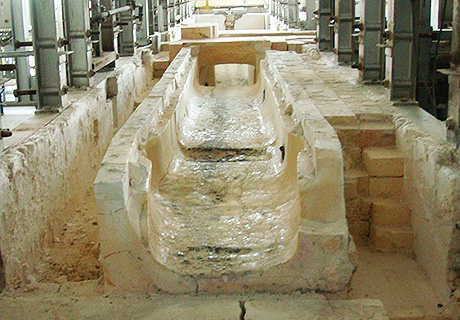 The chemical composition of different kinds of glass mainly includes: SiO2, alkali metal oxides(Na2O+K2O+Li2O) and alkali earth metal oxides( CaO+MgO+BaO). If there is no physical action, glass liquid will have very slow corrosion to refractory materials.
Glass batch material dusts and volatiles can react with refractory materials and corrode them. The main chemical compositions of dusts are: SiO2, Na2O, SO3, K2O, B2O3, Al2O3, etc. volatiles not only include the up mentioned  oxides, but also include fluoride, chloride and so on. Some volatiles can react with refractory material at gas state and liquid state, which can cause the damage of refractory linings.
Heavy oil and coal gas contains certain percent of sulfur, which can produce SO2 during combustion. SO2 can react with R2O in volatiles and produce sulfurous acid, so the corrosion speed is accelerated.
Therefore, the construction of the glass furnace refractory bricks is essential. Moreover, the glass furnace refractory selected are as: wear-resistant, fire-resistant and heat-insulating materials.
RS company refractory fire bricks for glass furnace refractory material is liked: fused AZS bricks, fused corundum bricks, silica bricks, high grade magnesia bricks, magnesite chrome refractory bricks, magnesia alumina spinel bricks, fire clay bricks, insulation glass tank furnace refractories, etc.
RS refractory fire brick materials for glass furnace refractory construction, can customize the refractory bricks for glass furnace required by customers themselves. For the latest glass tank furnace refractories information and quotations, please contact us, RS Group.