Zircon Bricks, a kind of shaped refractory brick, are manufactured with stable zircon sand and over 64% zircon content. Zircon Brick belongs to acid refractory material with various properties of high mechanical strength, good thermal shock resistance, high refractoriness under load, strong erosion resistance and high density and etc. Zircon Bricks can be widely used in glass furnace, Ladle, pure steel furnace, non-ferrous metal smelting furnace and so on.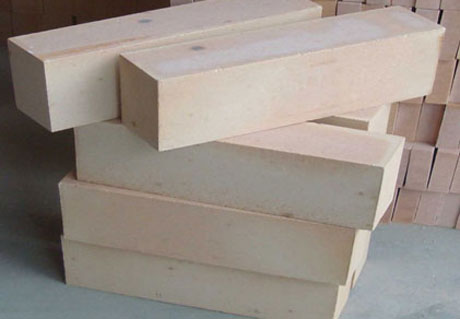 Zircon Bricks Properties
High refractoriness under load
Excellent thermal shock resistance
Good corrosion resistance
High mechanical strength
Great creep resistance
High density
Zircon Bricks Application
Glass melting furnace.
Ladle lining in the metallurgical industry.
Areas of crown, burner, thermal couple, peep hole, and secondary layer of melter bottom and back lining.
Areas of glass tank, such as paving part and secondary layer of paving bottom, back lining, wall and bottom of fore hearth, flowing spout and spinning portion and melter.
Upper area of flame space or frequent thermal shock position.
Lining of alkali-free or low-alkali glass, sodium-calcium glass, boron-silicate glass, ceramic glass, lead glass, and other technical glass melting furnace.
Get the prices of the zircon bricks for your thermal furnace linings!
Zircon Bricks Specification
Zircon Bricks

Item/Index
ZR-30
ZR-50
ZR-55
ZR-60
ZR-62
Al2O3 %
42
10
6
4
–
SiO2
20
34
35
30
34
ZrO2
30
50
55
60
62
Bulk Density (g/cm3)
≥3.10
≥3.30
≥3.45
≥3.50
≥3.60
Apparent Porosity %
≤21
≤20
≤20
≤21
≤20
Compressive Strength (kg/cm2)
≥500
≥400
≥500
≥500
≥500
Refractoriness Under Load ℃ (T2)
>1500
>1450
>1500
>1600
>1550
Expansion at 1000℃  (%)
0.6~0.8
0.4~0.6
0.4~0.6
0.4~0.6
0.4~0.6
Thermal Conductivity
500℃
1.7
1.4
1.3
1.2
1.2
1000℃
1.8
1.6
1.5
1.5
1.5
Application
Glass Furnace
Nozzle Seat
Ladle
Ladle
Ladle Glass Furnace
Zirconia Hollow Ball Brick
Zirconia hollow ball brick is a heat-insulating refractory product made of zirconia hollow ball as the main raw material. The main crystal phase of this brick is cubic zirconia, which accounts for about 70% to 80% of the mineral phase composition. The refractoriness is greater than 2400℃, the apparent porosity is 55% to 60%, the bulk density is 2.5 to 3.0 g/cm3, the compressive strength is not less than 4.9 MPa, and the thermal conductivity is 0.23 to 0.35w/(m· K). The production method of zirconia hollow ball brick is the same as the production method of alumina hollow ball, except that its melting temperature is higher, reaching above 2700℃. CaO is widely used as a stabilizer in China.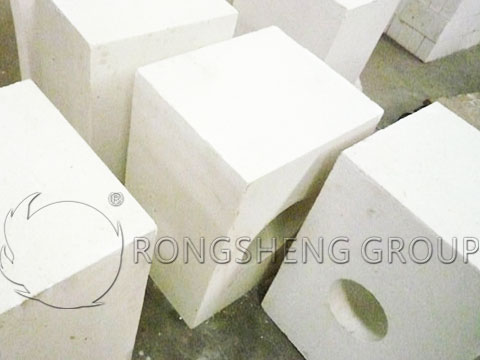 Zirconia hollow ball bricks are heat-insulating refractory products with excellent performance. The maximum safe use temperature is 2200℃. It is used as a high-temperature lining material that directly contacts the flame in thermal equipment in metallurgy, petrochemical, electronics, and other industries. The zirconia hollow sphere products are entirely made of zirconia hollow spheres. With good high-temperature strength and stable pore structure, it is used as heat insulation material for furnace cover and other parts in ultra-high temperature equipment. For example, intermediate frequency high-temperature furnace, carbon black reactor, tungsten rod furnace, molybdenum furnace, etc.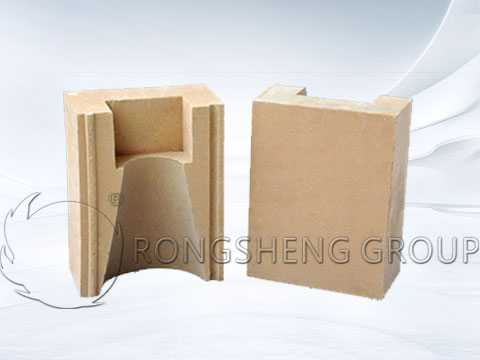 Zirconia Mullite Cast Brick
Zirconia mullite fused cast bricks are fused cast refractory products made of mullite (3Al2O3·2SiO2) and zirconia (ZrO2) as raw materials. Zirconia mullite cast bricks have low porosity, high density, excellent chemical stability and wear resistance. Its corrosion resistance to molten glass is better than that of mullite cast bricks. Zirconia mullite cast bricks can be used in heating furnaces, soaking furnaces in the metallurgical industry, sidewalls of glass melting tank kilns in the building materials industry, and neck hanging walls.
Fused Zirconia Corundum Brick
Fused zirconia corundum bricks are commonly called white iron bricks, also known as corundum-oblique zircon bricks. The main chemical composition is Al2O3 50%~70%, ZrO2 20%~40%, and the rest is SiO2. The main mineral composition is zircon (ZrO2), corundum (α-Al2O3), and glass phase. Oblique zircon crystals form the backbone of the brick body. ZrO2 has a high melting point (2715°C) and good chemical stability. It has strong corrosion resistance to acidic and alkaline media, especially molten glass. Fused zirconia corundum bricks are used in industrial furnaces such as glass furnaces. The use parts in glass furnaces are the masonry of the upper pool wall, small furnace flat slabs, small furnace stacks, tongue hangings, and breast walls.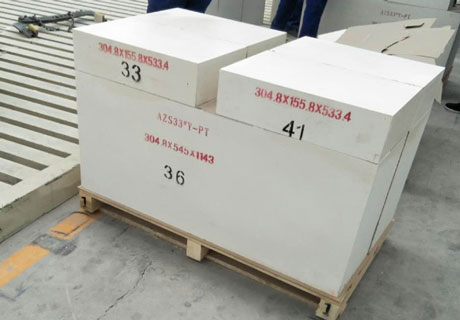 Sintered zirconia corundum brick is also called ceramic bonded alumina-silicon zirconia brick. Compared with fused zirconia corundum bricks, the chemical composition of sintered zirconia corundum bricks is similar. But it has the advantages of no carbon, low glass phase content, uniform structure, no shrinkage, thermal shock stability, and good corrosion resistance.
Zircon Bricks Manufacturer
RS Refractory Company is a professional Zircon Bricks Manufacturer with advanced manufacturing equipment and production technology. We produce many types of high-quality zircon bricks and other related refractory fire bricks such as Zircon Bricks, Fused Cast Zirconia Brick, High Dense Brick, Zirconia Mullite Brick, Zirconia Corundum Brick, AZS Brick, Fused Cast AZS Brick, and so on. Contact us for the best price!