High alumina silicon carbide brick refers to refractory material products made with high alumina bauxite and silicon carbide as the main raw materials. It has higher refractoriness and better thermal conductivity and also has higher high-temperature strength and thermal shock resistance. Examples of the physical and chemical properties of high-alumina silicon carbide bricks are as follows. Al2O3 70.88%, SiC 10.78%, apparent porosity 20.4%, volume density 3.3g/cm3, normal temperature compressive strength 54.3MPa, load softening starting temperature 1640℃, refractoriness greater than 1770℃.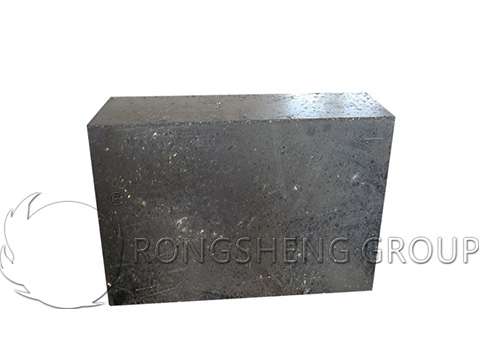 The Manufacturing Process of High Alumina Silicon Carbide Brick
The production process of high alumina silicon carbide brick usually uses 60% high-alumina bauxite clinker particles, 15% first-grade high-alumina bauxite clinker fine powder, combined clay fine powder 10%, and silicon carbide fine powder 15%. Use aluminum phosphate or sulfite pulp waste liquid as a binding agent. According to a certain proportion and the order of addition, it is fully mixed and uniformly mixed in a wet mill and formed by a friction brick press. After the green body is dried until the residual moisture is less than 0.5%, it is kept at 1350~1400℃ for 6~8h before firing. The content of impurities in the raw materials used should be as small as possible, especially since Fe2O3 has a greater impact on the high-temperature performance of the product. The SiC in silicon carbide is required to be greater than 93%. When the content of SiC in the product is high, the thermal shock resistance is improved, but the compressive strength decreases, and the slag resistance performance becomes worse. Therefore, in the production of high alumina silicon carbide brick, the addition amount of silicon carbide fine powder is usually controlled below 30%, most of which add about 15% and the addition amount of combined clay fine powder is below 20%. Otherwise, it will further reduce the high-temperature resistance of the product.
In order to make the chemical composition of the matrix part of the product more uniform and easy to sinter, it is best to finely pulverize the bauxite clinker, bonded clay, and silicon carbide raw materials. And grind to the required fineness to make mixed fine powder, and then make bricks.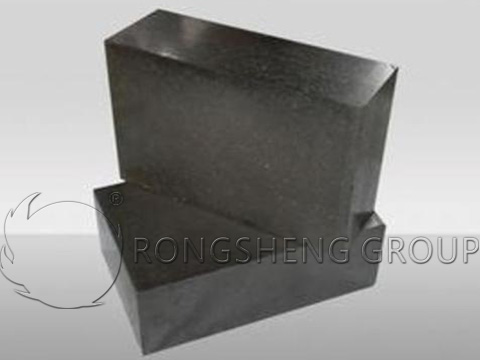 Use of High Alumina Silicon Carbide Brick
It can be used as a support material for steel wire quenching heating furnace lining and steel rolling heating furnace corundum silicon carbide slide rail bricks. It can also be used as kiln furniture for ceramic firing.
Application of High Alumina Silicon Carbide Brick on Hot Metal Tank
The molten iron tank is a container for transporting molten iron to the converter and electric furnace. Because there is no special metallurgical process, the temperature of molten iron is generally 1300 ~ 1450 ℃. When the molten iron is contained, the lining of the package is impacted by the hot molten iron, resulting in erosion and abrasion and strong thermal shock, resulting in great thermal stress. During the process of holding molten iron, it is subjected to chemical attack by molten iron and slag and oxidation by air. When molten iron is poured, it is scoured and oxidized at high temperature by molten iron. After the molten iron tank is emptied, the temperature drops sharply, causing the lining to cool rapidly, and at the same time the lining is exposed to the air and oxidized.
In this repeated process, the lining is repeatedly subjected to rapid cold and rapid heat, erosion of slag and iron, oxidation of air and erosion of molten iron. Therefore, refractory materials with resistance to thermal shock, erosion and oxidation should be selected. Generally, the service life of standard fireclay bricks is more than 200 heats. The service life of high alumina bricks will reach 300 to 400 heats. At present, fireclay bricks are mostly used, and high alumina silicon carbide brick is also used now, and their service life can be 500 to 600 heats. Some have started to use Al2O3-SiC-C bricks, and the one-time service life can reach more than 800 times. Through repairing and other maintenance, the service life can reach more than 1500 heats. There is a clear trend towards high-grade refractory materials, such as the proportion of Al2O3-SiC-C castables and Al2O3-SiC-C bricks is increasing.
Application of Silicon Carbide Brick
Silicon carbide bricks are made of silicon carbide as the main raw material and are differentially mixed with high-purity silicon carbide powder and high-activity silicon carbide. It is a high-grade refractory brick that is recrystallized by sintering in a vacuum at high temperatures after grouting.
Silicon carbide bricks have slightly different uses due to different combinations. The main purpose of silicon carbide bricks is as the lining of thermal equipment. The silicon carbide products of different specifications, such as silicon carbide plates, silicon carbide rings, etc., can be processed and manufactured in different combinations according to the use parts of the thermal equipment.
In the metallurgical industry, silicon carbide bricks are mainly used in aluminum melting furnaces for aluminum alloy smelting and secondary tuyere bricks of blast furnaces. In the power industry, it is mainly used in boilers as the nozzle of the boiler combustion chamber. In the domestic waste treatment industry, it is used in waste incinerators.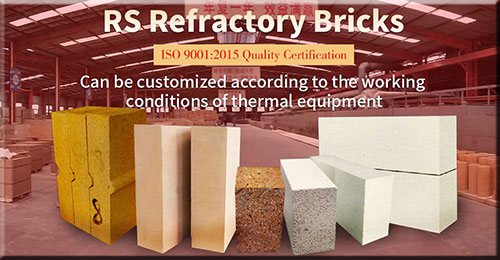 Rongsheng High-Quality High Alumina Silicon Carbide Bricks for Sale
Rongsheng refractory brick manufacturer has rich experience in the production and sales of refractory bricks. We already have the trust of customers in more than 60 countries all over the world. Among the production and sales of refractory bricks, high alumina bricks, corundum bricks, silicon carbide bricks, mullite bricks, lightweight insulation bricks, etc. are our hot-selling products. To obtain free price information of high alumina silicon carbide brick, please fill in the form below. We will provide you with services according to your specific needs.